---
The Hussey Battery.
---
This is the name given to a battery recently brought out by the Eclipse Electric Company, of this city, which is intended for both open and closed circuit work. The cell is shown in perspective in Fig. 1, and Fig. 2 shows the cover, with the carbon and zincs attached. As will be noted, the carbon is enclosed within a porous cup and completely surrounded by a powerful depolarizing mixture. The zincs, two in number, are placed on either side of the porous cup and offer a large active surface.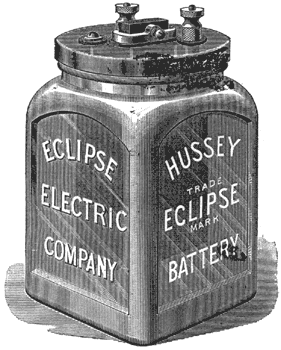 Fig. 1 — the Hussey Battery.
The internal resistance of the battery is said to be very low, and it is thus able to give 5 amperes at 1 1/2 volts on short circuit. The cell only needs to be filled with water and requires no further attention. We are informed that one of these cells was recently employed in one of the telephone exchanges in this city, where it worked a pole-changer uninterruptedly for one week, displacing two gravity cells. On account of its low resistance the battery seems well adapted to telephone work, and it has also been specially arranged for electro-medical and cautery purposes.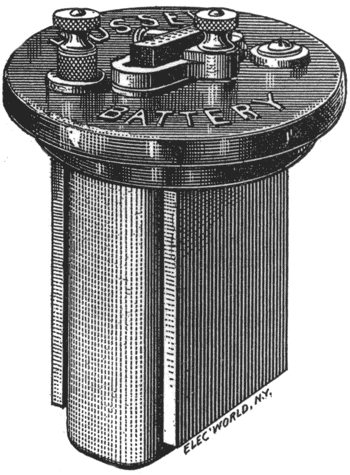 Fig. 2 — the Hussey Battery.