---
ILLUSTRATED ELECTRICAL PATENT RECORD.
Issued (United States Patent Office) November 20, 1906.
·
·
836,122. High-potential Insulator. Fred M. Locke, Victor, N. Y. Application filed March 23, 1903.
The porcelain center piece is formed with a central tapering opening which is smaller at the bottom than at the top. A tapering bolt is in the opening and has its upper end smaller than the upper end, but larger than the lower end of the opening, so that the bolt is removable from one end only of the opening and wedges in the opposite end. (See cut on next page.)
·
·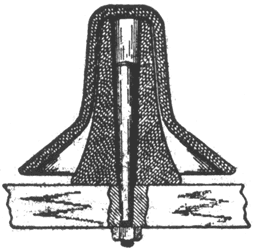 No. 836,122. — High Potential Insulator.
·
·