---
TRADE NOTES AND NOVELTIES
AND MECHANICAL DEPARTMENT.
---
·
·
THE "SIMPLEST" WIRING CLEAT
The accompanying illustration shows a wiring cleat recently introduced by the Electric Heat Alarm Co., of 145 High street, Boston, and called by them the "Simplest" because of eight excellent reasons, as follows: It is in one piece; it anchors the wire; there is no breakage; it does not cut or bend the wire; it can be put up independent of the wire; it does not interfere with the perfect insulation of the wire; it is practical for nearly all sizes of wire, and it will bind two sizes of wire at the same time.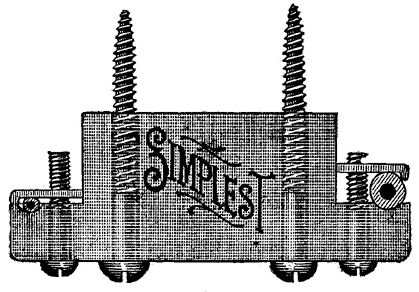 The "Simplest" Wiring Cleat.
The cleat was designed and has been patented by L. H. Des Isles, foreman of the company's shop.
·
·