---
THE "IDEAL" ONE PIECE CLEAT
Our illustration represents a new one-piece porcelain cleat recently put upon the market by the Electric Porcelain and Manufacturing Co., of 309-315 Monmouth St., Trenton, N. J.
The cleat is made of white, thoroughly vitrified and tough porcelain, and besides the advantage of being self contained in one piece has a number of other characteristic features. Thus owing to the two bearings with which it is provided it will not break when secured to the ceiling.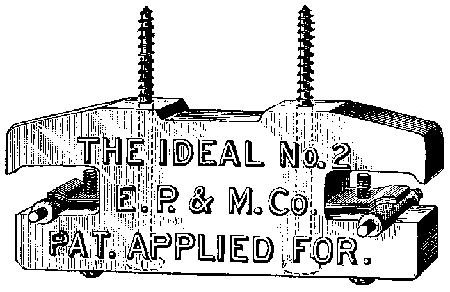 The "Ideal" One Piece Cleat.
In fixing the cleat, flat head wood screws are used, which are countersunk in the porcelain, being fully one-quarter inch from the clamp screw. The clamp is made of stamped brass having a longitudinal corrugation which keeps the wire tight, held in position by a round-headed machine screw. The overhanging lip also protects the wire from moisture. These cleats are made in two sizes, the smaller taking wire from No. 14 to No. 6, and the larger from No. 6 to No. 0. The company have a well equipped shop for making dies and employ only skilled workmen.