---
New Apparatus
and Appliances.
---
·
·
COMBINED BRACKET AND KNOB INSULATOR.
Figs. 9 and 11 show a combination bracket and knob insulator brought out by the Snyder-Hunt Company, of Belle Plaine, Iowa. The fastening screw is passed obliquely through the insulator, so that when once fastened the bracket is prevented from turning. Shoulders on the inner face of the bracket are also provided to secure this result. The knob portion has a transverse bore through which the conductor wire is passed. Grooves are also provided on three sides for fastening wires. While it is intended that the conductor shall pass through the hole and the fastening wires rest in the grooves, this order may be reversed where it becomes necessary to connect a knob to a wire already in place. With the conductor passing through the insulator, tie wires are not absolutely essential, so that speedy and efficient wiring is possible by the use of the device. Fig. 9 shows the conductor passing through the hole in the knob with the tie wire in the groove, while Fig. 10 shows the conductor in the groove with the tie wire passing through the hole.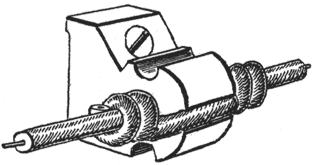 Fig. 9. — Snyder-Hunt Insulator.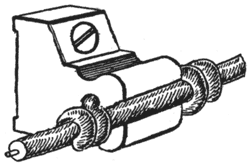 Fig. 10. — Snyder-Hunt Insulator.
Fig. 11. — Snyder-Hunt Insulator.
·
·